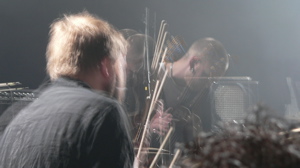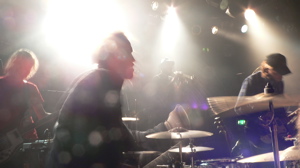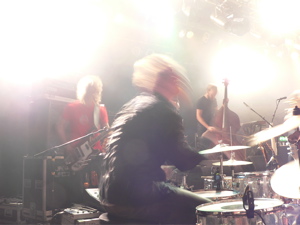 Shining + Jaga Jazzist
Mean Fiddler, 1st June 2005
Shining's set tonight is generally recognisable from 'In the Kingdom Of Kitsch You Will Be A Monster', their endearingly titled debut for Norwegian new music label Rune Grammofon. Shining was a longstanding parallel project for Jorgen Munkeby and Morten Qvenild who recently left Jaga Jazzist to devote their energies to it fulltime. Their role as support act tonight indicates clearly that the two bands remain on amicable terms. Their music is a vigorously played collage of genres with styles alternately colliding or melding with each other. One moment they're playing operatic rock replete with howling wolverines – at least that's the impression – next it's turn-on-a-dime prog-jazz. If the preponderance of hyphens in that previous sentence is noteworthy, it's also entirely appropriate in mirroring the additive nature of Shining's music. At the same time if you've ever bent a plastic ruler or spoon up to and beyond breaking point - and in the process keenly felt its tensile strength - then you'll appreciate what Shining do to the genres they explore. The group are powered along by Torstein Lofthus, who plays his drums like dray horses on an amphetamine-fuelled rampage. The ragged nature of the group's live set proves welcome after the slightly too pristine studio recording of 'Monster'. The only doubt about the experience is something that isn't really their fault. Norway has birthed so much inventive, innovative music in recent years that it's possible to experience a sense of hybrid fatigue. As a result Shining might have to work harder than otherwise to overcome the feeling of cultural exhaustion their energetic fusion may engender in some of its potential audience.

After a short break Jaga Jazzist take the stage (at time of writing there's some debate whether the group are now simply called Jaga or not – in interview the group's primary composer, Lars Horntveth, declares confidently they're retaining the Jaggist part of their name). After a number of one-off gigs since their initial visit to the Spitz in 2002, this is the first time the 10-piece have undertaken a full UK tour and they kick it off with gusto. The group present a fascinating conundrum in their exploration of jazz/not jazz, rock/not rock, dance/not dance and so on. Their compositions are brimful of hummable, difficult to forget melodies. The more robust of these are rousingly anthemic, particularly when performed live. An early example is their second track tonight, Stardust Hotel, in which the music overflows with such genuine warmth and affection that it's surprising the audience don't dig out their lighters and raise them aloft. On For All You Happy People, they're confident enough to play ambient passages and gently layer elements until they achieve an ears-pinned-back climax. As with Shining, drummer Martin Horntveth is a human dynamo powering the group forward, his rhythms are challenging, densely-packed affairs that are surprisingly complex and challenging to dance to. He takes on the role of announcer with enthusiasm, addressing the audience between songs with sweat running in rivulets down his face. Martin's brother Lars turns and smiles sincerely at various members of the group – it's an endearing sight that underlines the sense of familial support hinted at by the tight performance of the ensemble. Even more appealing is a brief passage in which the whole group lay down their instruments and sing acapella with outspoken sincerity. Jaga Jazzist play three – or was it four? – encores. Each one greeted rapturously by the audience.

It's possible to sense an innate tension at various points through the evening between the group's tightly orchestrated compositions and the impressive enthusiasm with which they play. Jaga Jazzist's performance appears to tremble on the verge of cathartic dissolution, but it never quite tips over into chaos. Added to the unusual nature and format of their music, this pivotal strain between organisation and chaos may just be their defining attribute.
Colin Buttimer