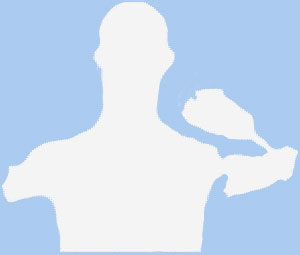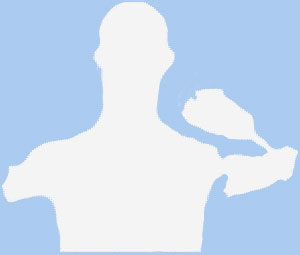 Kraftwerk
1st July 2005, Tilburg, Netherlands
We visited the Sonneveld House, a graceful example of high Modernist architecture...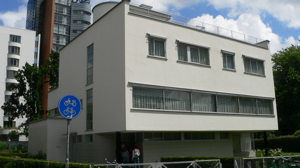 ...and interior decoration completed in 1933.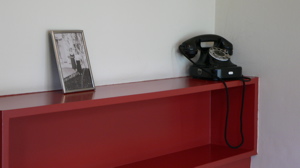 We travelled by train from Rotterdam to Tilburg.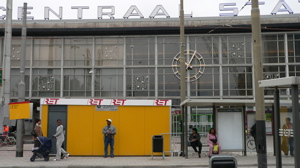 The experience was a far cry from the thunderous clatter of Metal On Metal, Kraftwerk's percussive coda to the anthemic Trans-Europe-Express. However, the song echoed silently around us as we sat on the upper deck of our smoothly efficient double decker carriage.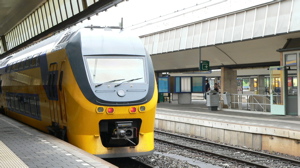 Leaving the station, we saw hundreds of bicycles, a familiar sight in the Netherlands.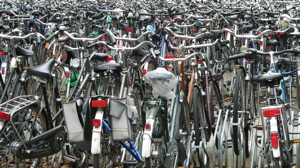 At 10pm that evening Kraftwerk began to play. Standing at their laptops, the four men played the role of elder statesmen of the last two decades of popular music with typical humility.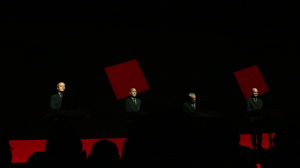 They sang of the hopes of the past, of the nostalgic potential of technology (trains, cars, bicycles, computers and so on). Their music also spoke of the present and future, creating space for contemplation of our condition.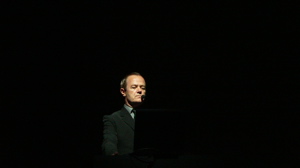 Two hours of songs, arranged to the familiar setlist, but brimming with visceral, synaesthetic, resonant pleasure. Each of the three times that the group left the stage, Florian Schneider departed hurriedly, bent over. I hope that this was not a sign of serious illness.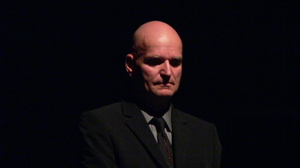 Partway through the concert I thought of the term 'metonym'. Was this the forgotten word used by the group to describe their reductive approach to texts?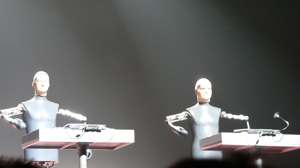 I danced almost continuously. The next day as I made my way to the station, on my return journey to London, the repetitive movement of my limbs made me momentarily unsure whether I was walking or dancing, a human being or a machine.
---
After the concert while we danced at the aftershow event, Dan's brother pointed out that Fritz Hilpert was signing autographs by the stage door.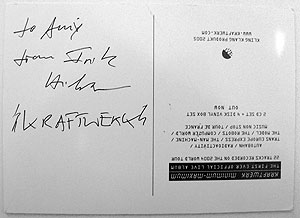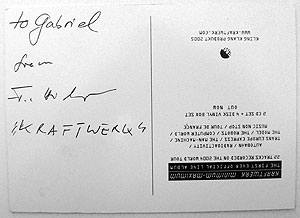 Amy and Gabriel were pleased and impressed to receive their cards though Gabriel was a little confused whether a robot or a human had signed his card.


Many thanks to Dan and Andrew and his family for putting me up.
Colin Buttimer
Published by myself